Curriculum
Trouble shooter:
Peter Jorgensen, born 1962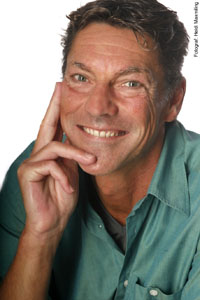 Specialties:
Content-, concept- and interface-design for interactive communications.
Project management.
Coordination of activities in the process of developing interactive services from idea to launch.
2008 – present:
Investing time and resources in new online ventures.
1993 – 2008:
Interactive concepts and visual designer.
VizArt, Cph (Own company)
Tele Denmark Kabel TV, Cph (Freelance)
ActiveTV, Sthlm (Creative Director)
Aglet Executive, Cph (Project Mgr)
Betfair Dev. DK, Cph (Poker Prod. Mgr)
Netucating People (Partner)
1984 – 1993:
Presentation graphic designer.
Division manager ST&O Studio Cph
ArtLab, Oslo (Co-founder)
Personal Strengths and Chronological Project Details:
Knowledge of screen-graphics/navigation limitations and possibilities.
Conveying complex messages in "no time" – getting the best from every byte.
1984: Started doing computer graphics.
1985: Co-founded ArtLab, Norway.
1993: Created graphics and interfaces for interactive cable broadcast services in Copenhagen on French-Canadian software from Videotron at TeleDanmark Kabel TV.
1994: Conceptual design and graphics for Information Channel.
1995-99: Basic presentation graphics for FL Smidth in-house production.
Development of graphics and electronic layouts for IBM Denmark at OS/2 launch.
Layouts and image-editing for CIC (Paramount/Universal DK).
Concept and creation of electronic slide show for Microsoft Denmark at national Windows 95 launch.
Graphics and interface for interactive CD-ROM for Zeneca Denmark.
Development of digital set-top interface and services for SELECTOR.
Graphics for presentation at launch of PostDanmark's new corporate profile.
Logo design, on-screen profile design, and graphic supervision for the first national pay-per-view channel, TVbio in Denmark.
Freelance graphic work for television idents, teaching use of presentation graphic applications, revamped corporate id for a real estate agent in Copenhagen.
2000: Art Director at Swedish ActiveTV.
2001-03: Concept design and project management of iTV services at Aglet Technologies in Cph.
2003-08: Co-creation of PokerChamps. This online poker room launched with real money games in 2004 and was sold to Betfair, UK in 2005. Integration of technical and human resource-related issues along with continued improvement of the poker product until 2008.
2009: Partner and Creative Director at Netucating People A/S.
2010: Author of the novel "One Man Three Women".
2010: Developed Quizurvey.
2011-14: Various websites and games on facebook.
2015-16: Continued progress of Jigsaw Friends on facebook, start-up of NewSpeek Networks